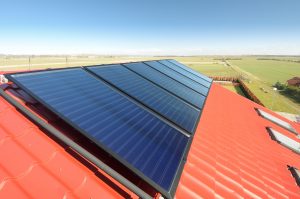 Solar energy is the way of the future, and each successive generation of equipment and technology improves upon the one that came before it. Today's solar panels do more with far less than other models did, and if you think solar panels may be a good fit for your home, now is the time to act on having them installed. With fall just around the corner, right now makes an excellent time to discuss installation options.
Indeed, solar energy has such a wide array of applications that there is more than one way to take advantage of the technology. You may think that solar energy is limited to providing electrical power to your home, and it does that quite well. Solar makes an excellent solution for homes that sit off the electrical grid: maintaining your independence and ensuring that you always have the electricity you need. But it goes beyond that. The more you understand the different ways to take advantage of solar energy, the more you'll see of the potential. We've listed three of the most popular methods below.
1. Solar Electricity
The largest and most popular option for solar energy is electricity to power your home. Solar panels are becoming more affordable by the day. Aided by discounts and rebates from the government, you can get the panels set up quickly. In most cases, they can be installed on the roof or a similar spot where they won't take up too much space. They're easy to maintain and have few moving parts, so there's little chance of a breakdown. Most solar panels last from 20–25 years before needing replacement, and because we live in sunny California, there's limited risk of problems with the weather.
In exchange, solar panels can provide you with enough electricity to power your home, and you may even generate surplus electricity which you can sell back to the civic electric gird. Solar electricity comes from the infinitely renewable resource of the sun, which means you're reducing your carbon footprint and helping out the environment by installing solar electricity.
2. Solar Water Heaters
A solar water heater uses the energy of the sun to heat up the water in the tank, which in turn gives you access to reliable hot water for your whole hose. Solar water heaters come in two basic types:
Active Solar Water Heaters, which circulate the water through solar collectors, or possibly use heat transfer fluids to warm the water.
Passive Solar Water Heaters are less efficient than active heaters but can do the job without incurring as much expense and get a big boost from our copious sunshine levels.
3. Solar Pool Heaters
Swimming pools in the area need to be heated as part of their maintenance. Solar pool heaters are a fantastic way to keep your pool warm without any bulky equipment. The water is pumped through a tube and warmed by the solar collectors, leaving your pool perfectly comfortable no matter how chilly the day is. We work with leading brands like Pentair for your pool equipment needs!
For solar energy installation in Sacramento, CA, call on  the friendly pros at Sierra Pacific Home & Comfort, Inc. today