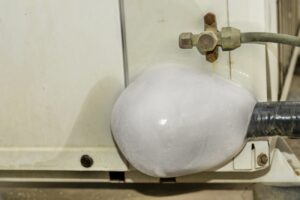 For many homeowners, seeing ice developing on an air conditioner may seem like a totally natural part of the cooling process. After all, your air conditioner is tasked with chilling the air, right? So seeing a little frost should be totally okay.
Well, no, not quite! Ironically, ice development on your air conditioner, particularly on the coils, actually prevents the air conditioner's coils from being able to do their job, which is to absorb the heat from your home and put it through a refrigerant process.
Read on as we uncover what it means when you see ice forming on your air conditioner, and what you should do about it.