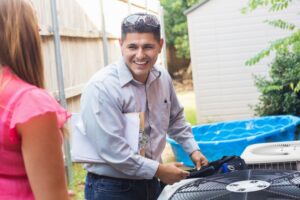 The short answer to this question is "yes," but don't worry, we're about to elaborate!
At some point or another, perhaps you've wondered just how cold a central air conditioner can actually get. You likely already know what the lowest setting is on the thermostat. For most models, it's about 60–62°F, which is too cold for most people.
In the case of an extremely hot day, how much power can you actually get from your air conditioner? How cold can you get the air to ensure you're as comfortable as possible when indoors?
We're happy to answer these questions, regardless of whether if you're reading this in the middle of a sweltering hot day and wondering if your air conditioner has something wrong with it, or even if you're simply just curious. Helping you understand the limits of an air conditioner will also help you learn how to operate it more efficiently, give it a longer service life, and even potentially reduce the number of repairs it might need throughout that service life.