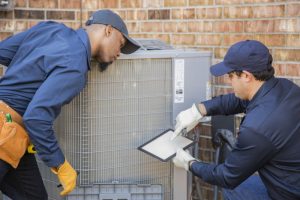 Okay, don't get too excited! We aren't providing a guide on how to install your air conditioner. The reason? Only a trained and experienced professional should ever do this kind of work. After all, AC systems are highly complex pieces of machinery, requiring specific knowledge and skills to service correctly.
Of course, we get your sense of urgency. If you're reading a blog post about AC installation near the end of July, then you're probably dealing with a broken-down system and a desperate situation. But no matter the severity of your air conditioning troubles, we really have to urge you to not do anything in haste. Doing so can lead to sacrifices in comfort and in energy savings—meaning you'll be paying more for less comfort.
Read on as we uncover a guide as to how our pros install an air conditioner, and why professional installation is so vital.
First, We Remove the Old System
Wait, that sounds simple enough, right? Why can't homeowners just do this themselves?
Well, because it's not as simplistic as just sliding out the old system and shoving it in a dumpster. There are a number of components within your old AC unit that require a specific type of disposal–like refrigerant. Our pros know how to manage things like this.
Removing the old air conditioner from its home for the last 10–15 years is actually the lengthiest part of the AC installation process. We must pay special attention to make sure we don't knock anything out of place—like existing ductwork or other equipment—and then space has to be prepared for a new air conditioner.
Next, We Make the Connections
Once your new air conditioner is in place, our technicians will connect the system to the important parts of your living space in order for it to function. We're referring mostly to your ventilation system here, meaning your ductwork.
But electrical connections have to be made as well. Our technicians are fully qualified to handle this kind of work, whereas a homeowner could unintentionally cause damage to the house or injury to themselves.
Lastly, We Test Your Air Conditioner
Does your new air conditioner actually work as it should? The only way you'll know for sure is if your installation team actually tests it for functionality before they leave your property. We'll turn on the system, measure the intake and the airflow to ensure its operation is sufficient, and check for any potential safety hazards.
This is a fairly broad overview of what professional air conditioning installation looks like. You should keep in mind that this process we've outlined above usually starts days before the actual installation, as we have to correctly survey your home to make sure we aren't outfitting you with an underpowered or overpowered air conditioning unit.
This last component may not seem important to you without understanding all the complexities of AC efficiency, but we assure you, you want a correctly sized air conditioner!
For professional Sacramento, CA air conditioning installation, contact Sierra Pacific Home & Comfort, Inc.—The Guys in the Big Red Trucks!