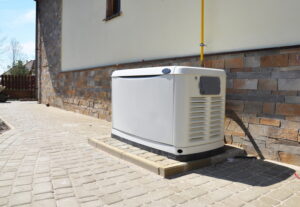 If you've lived in the area for a couple of years, then you're pretty well aware that Northern California is prone to fires during the summer. When people think of fire protection, they often think of having an evacuation plan if the fire is close to their home, or keeping lush landscaping in their yards so it's not even more susceptible to catching fire from an ember.
What homeowners don't often think about is when their home isn't in direct danger, but their comfort still very could well be. A common occurrence that goes along with fire season is power outages—power outages that mean you have to go without your HVAC system, refrigerator, and more.
Fortunately, you don't have to worry too much about this if you have a whole-home generator in place. Read on to learn more about these systems and how they help protect your home and comfort.
The Many Benefits of a Whole-Home Standby Generator
Whole-home, automatic standby generators far surpass portable generators in safety and convenience. They hook up with your home's electrical system and are powered by natural gas from the main gas line in your neighborhood, rather than a storage tank of fuel on your property that can run out before a power outage is over.
They automatically cycle on when your power goes out, and they run extremely efficiently, providing the following benefits:
Convenience: You'll never need to worry about wheeling out a generator and filling it with fuel in preparation for a potential power outage. You have enough to worry about if there is a fire in your city. Even if it's miles away, it can be unnerving, and it can affect power lines.
Efficiency: A portable generator is great for a couple of appliances or as a backup energy source when you're on a camping trip and want to use a cooktop or whatnot. A whole-house generator, however, uses natural gas to operate and is far more efficient than a portable system, allowing you to keep your entire home powered during an outage, no matter how long it lasts.
Safety: We can't forget to mention safety. Whole-house standby generators are far safer to operate than portable systems. Portable generators run on stored gas or propane and can release hazardous fumes into your living space, such as carbon monoxide. The results of carbon monoxide poisoning can be catastrophic and are definitely something you want to avoid!
Generator Maintenance
We'd be remiss if we did not mention the importance of generator maintenance. If you already have a whole-house standby generator in place, you want to ensure that it's going to operate reliably and safely the next time you need it, whenever that time comes.
This can be achieved with professional annual generator maintenance, where we will clean, adjust, and test your generator to ensure it's going to operate as safely and efficiently as possible.
For generator services in Sacramento and beyond, contact Sierra Pacific Home & Comfort, Inc. "The Guys in the Big Red Trucks!"