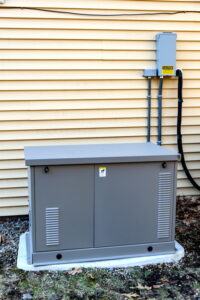 Power outages spark stress. We're so connected to electronics these days that a simple power outage can disrupt more aspects of our lives than we really think about. When you really think about all the ways we're connected and dependent on electricity, the thought of going without can induce stress.
That's why whole home generators in Rancho Cordova, CA can keep your life as stress-free as possible. We're at an odd time in our state's history regarding energy, but you don't have to worry about it with the right equipment on-site at your home. Let's talk about why these generators reduce stress.
Home Security Equipment Stays Up
Are you concerned about your home's security? It's an ever-growing worry in California, so instead of panicking when the lights go out and your cameras go offline, you can sigh with relief as your generator kicks on.
While certain devices can run on their own internal power reserve, such as doorbells and smart locks, cameras and other video equipment will be hardwired in. You need your electricity restored so you can be sure that nothing nefarious happens on your property.
Keeping the Lights On Prevents Trips and Falls
The lights go out, and suddenly it feels like you forgot the layout of your own home. It happens to the best of us. When the power goes out, injuries are far more likely to happen regardless of age or health status. Everyone is susceptible.
A whole-house generator deals with the potential hazards of a dark house and the trips and falls that can happen. It's not likely that you'll just have flashlights handy at the exact moment the power goes out to navigate your home. Generators lead to better in-house safety.
No Down Time for Home Medical Equipment That Relies on Electricity
Do you have a home oxygen regulator or testing machinery that can't be battery-operated? The very thought of losing power and losing control over your physical wellbeing is enough to send anyone into a stressful fit. Whole-house generators kick on quickly after the power goes out, so you won't be left in the dark or without your necessary medical equipment.
Zero Disruption to Your Quality of Life
The generator just has to realize the lights went out, fire up, and then your quality of life is back on track. It really is as simple as that. While different generators have different amounts of time that they take to turn on, you can usually expect power to be restored within 60 seconds or so from the time the power goes out.
Stop Worrying About Power Outages
You don't have to worry about power outages and losing access to all of your home's electronics just because of bad weather or a rolling blackout. We don't know what the future holds, but you can know that it won't include the stress of a complete power failure when you have a whole-house generator ready to work for you.
Contact us today to install your new whole house generator and start feeling safe no matter what the weather conditions are.