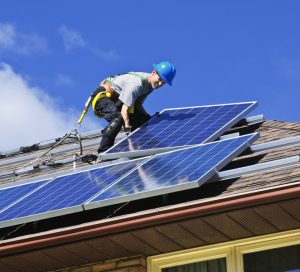 Are you considering solar energy for your home? Or maybe you're already convinced but are trying to understand how a solar energy installation would work from a practical standpoint.
There are a lot of reasons to be apprehensive about a solar energy installation. The necessary legal and tax incentive documentation, the process of finding a quality contractor, and the actual installation itself can all sound like daunting tasks. But, if you go with a professional from the beginning, there's little to worry about.
It does help to know what you're getting into. Here are some of the things you need to keep in mind before and during your solar energy installation:
Finding a Contractor and Purchasing Panels
With more and more manufacturers realizing the growing desire for solar products, it's becoming easier to find competitive pricing for solar panels. However, we don't recommend buying the cheapest panels you can find.
Instead, we suggest consulting with a certified solar company in Sacramento and working from their recommendations. Just because a solar panel is cheap does not mean it's of good quality, so you're much better off going with the panels that an experienced contractor already has experience installing. Buying your own solar panels and then trying to find a contractor who installs them will be much more difficult.
Filing the Necessary Paperwork
What would solar installation be without the promise of rebates and incentives? It's this promise that has most homeowners lining up to install solar energy in the first place. Of course, navigating the landscape of rebates and incentives can be its own challenge—you wouldn't want to install a system just to find out that part of your installation process does not qualify.
Again, we suggest working with a professional on this one. They can get you started on the right foot from the very beginning. Plus, there's more than just tax and rebate documentation to keep in mind. Electrical diagrams, applications for electrical service, and electrical permits must be filed with the new system as well. Without it, the city will not recognize your solar energy system as safe and compatible.
Preparing the Installation
We wish it could be as simple as throwing some solar panels on a roof and calling it a day. If it were, we would have even more people participating in this cleaner energy source.
The truth is, not all roofs are ready to accept a solar panel installation. They need to be capable of sustaining the weight of the panels, for one. Second, if their shingles are anywhere near being due for replacement, that should be done before the panels are installed.
After all that is settled, the actual installation itself cannot just be passed onto an amateur or made into a DIY project. The installation still requires the help of a certified professional. They'll need to ensure the size of the system is right for your electrical needs, as well as to install other necessary components, like batteries, production meters, electrical storage systems, electrical inverters, and balance of system (BOS) equipment.
Need help planning a solar energy installation? Contact Sierra Pacific Home & Comfort, Inc., The Guys in the Big Red Trucks.