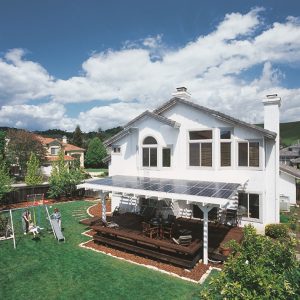 Solar panels have been moving forward in leaps and bound over the last few years as the technology becomes less expensive and more effective. California is one of the best places in the world to take advantage of those advances. We get copious sunshine all year, and homeowners interested in saving money on their electric bill would do extremely well to install them. The benefits are immense and there's never been a better time to follow up on your options.
Up-Front Investment
Installing solar panels is an investment in your home: paying an up-front cost for the sake of improved benefits over time. That's the bad news. The good news is that savings can be considerable: to the point where you don't have to pay for electricity at all, and can even sell excess electricity back to the state's power grid.
And there are federal tax credits available to help you mitigate that cost. The federal solar Investment Tax Credit (ITC) has been extended through 2021, though it will start to drop after 2019. Right now, you can enjoy a 30% tax credit for homes and businesses. That won't be in place forever, so moving now is the right call!
What's Involved?
Getting solar panels installed means consulting with a trained technician to ensure that it's performed the right way. That starts with an accurate assessment of your power needs: determining exactly how much energy the solar panels will need to provide.
With that in mind, you can then determine the best spot on your property to have the solar panels installed. That needs to be done with an eye on ideal sunlight exposure: providing the maximum amount of exposure and factoring in things such as the presence of nearby hills or tall trees that might block the sun during the late hours of the day. In most cases, the rooftop of your home makes the best spot: holding enough room for all of the panels you need in most places, while freeing up space over the rest of your property. (The elevation of the roof also helps ensure sunlight exposure, since the panels will stand above trees and similar obstructions.)
Ease of Use
The best thing about solar panels—besides their ability to provide safe, clean energy—is how easy they are to use once they are put in place. Solar panels have no moving parts and rarely suffer from significant problems. While regular maintenance can help keep them clean and avoid the ravage of weather, you can expect decades of reliable service from them without concerning yourself with frequent repair calls.
Even better, solar panels can enhance the value of your home and increase the resale value should you decide to move. If you stay in place, then the savings on electrical power will often recoup the investment of installation and then some. Over time, you'll be surprised at what such a system can do for you.
For quality solar installation in Sacramento, CA, call the friendly pros at Sierra Pacific Home & Comfort, Inc. to discuss your options!