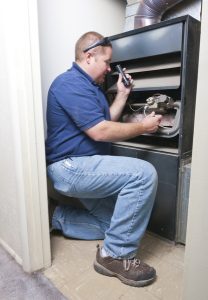 We may not experience the bitterly cold winters that other parts of the country do, but that doesn't mean our heating systems don't get quite the workout when winter rolls around. And with fall officially here, now is the time to start thinking about how you want your heater to perform.
If you want it to operate as effectively and efficiently as possible, then you'd do well to pick up the phone today and schedule your next heating maintenance appointment. Keep reading as we go through why now is the best time for this service and the benefits of scheduling heating tune-ups in the fall.
Schedule Your Heating Maintenance Today!
There are a number of reasons you should consider scheduling your heating tune-up now, before you need the system the most. First off, it's convenient! As far as scheduling goes, this time of the year is one of the least congested for HVAC contractors.
There are fewer emergency calls for air conditioners or heaters this time of the year, and you likely haven't even started using your heater on a daily basis yet. Our technicians can easily fit your maintenance session onto our schedules at a time that's most convenient for you.
Plenty of Time to Schedule Repairs
One of the things we do during heating maintenance is to check for any signs of small repair needs or potential repair needs. It's always a smart idea to find out about these needs as early as possible, so you can then schedule repairs before you actually need your heater hour after hour.
If our technicians discover that your heating system needs repair, you won't be in a crunch to get the work scheduled and won't need to worry about an interruption in service later.
Preparedness
Heating tune-ups provide you with a variety of benefits, but perhaps the biggest one is that it gives you peace of mind. You'll feel confident that the heater will make it through the winter.
Why not call us right now? You'll be able to rest easy knowing that your home is ready for any unexpected cold snap that may blow through.
Only Trust a Pro for Your Heating Maintenance!
When the time comes to schedule your heating tune-up, be sure to reach out to a highly trained and experienced professional. Only a certified HVAC technician has the equipment, expertise, and specialized training needed to accurately locate and correct minor heating issues before they grow into something much bigger.
And sure, there are probably plenty of amateurs willing to work on your system for you at a cheap cost. But remember, "you get what you pay for." Attempting to save money in this manner may actually wind up costing you much more in the long run. If you want the job done right the first time around, you should always hire a pro.
When you need trustworthy heating services in Sacramento, call on Sierra Pacific Home & Comfort, Inc. Just look for "The Guys in the Big Red Trucks"!