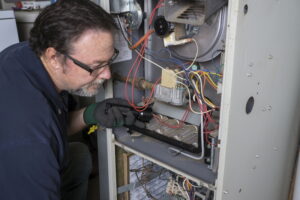 Would you think twice about taking your car in for maintenance or an oil change when it's needed? True, 2020 was a time for a lot less driving for many folks—but just because it was sitting in wait doesn't mean your car doesn't need work. The same concept applies to your HVAC systems! Yet, many homeowners forget about scheduling this important service.
Routine annual heating (or cooling) maintenance is the leading way to keep your system running well—efficiently and effectively. It also reduces the need for costly repairs and helps the system last longer.
We often say that the best time to schedule maintenance is before you need the system the most. So your heater should be tuned-up in the fall and your air conditioner in the spring. But consistency is what matters the most here. You should be having maintenance done once a year for each of your comfort control systems (and twice a year if it's a heat pump). The best way to stay on top of these maintenance appointments is by investing in a maintenance agreement. Read on to learn what this will afford you!
Better HVAC Reliability
The last thing any homeowner needs is a broken-down heater right in the middle of winter or a broken-down air conditioner in the peak of summer. Annual maintenance services ensure that your heater and your air conditioner will be as dependable as possible when you operate it.
Trust us, you really don't need these systems failing when you need them the most. During maintenance, our technicians will thoroughly inspect your system to make sure there are no smaller problems that can quickly lead to big ones, including a potential breakdown.
Improved System Efficiency
Routine maintenance ensures that your HVAC systems are energy efficient, which helps keep your monthly utility bills down. The wear and tear that these systems accumulate over the years adds up! In fact, on average, an HVAC system loses about 5% of its efficiency for each year that maintenance is skipped.
Maintenance is essential for getting the most out of the system, making sure you get the best return on investment possible.
Pre-Scheduled Service
When you invest in a maintenance plan such as ours, we will call you when it's time for service. You don't have to rely on a paper calendar or a phone alarm to remind you that your HVAC systems need service. We'll keep up with you and ensure that you receive regular reminders.
Our Maintenance Program
When you contact our team for your maintenance needs, you can count on quality. Our technicians arrive ready for any HVAC problems we may find, with fully stocked trucks to get the job done right then and there. This is incredibly convenient for our customers. After all, if you're told you need a repair need during maintenance, wouldn't you like it managed right away? With our specific maintenance program, you can count on:
Appointments scheduled at your convenience.
Courtesy and respect during all visits from our team.
Up-front and accurate quotes on service.
Complete HVAC system diagnosis.
All questions answered.
A 100% satisfaction guarantee!
Reach out to "The Guys in the Big Red Trucks" today for your heating maintenance needs. Contact Sierra Pacific Home & Comfort, Inc.