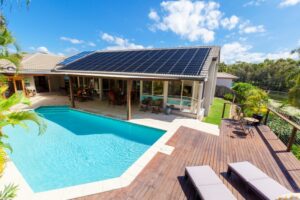 Our friends and family in the Midwest and Northeast would probably give us a pretty bewildered look if we said we were planning a pool party for the New Year. But the truth is, it could be possible to make this happen in Sacramento. While we do get some pretty chilly winter temperatures, we have also been known to get some pretty warm heat waves in the winter.
That, in combination with the right kind of pool heater, can give you, plus your family and friends, a truly unique way to celebrate winter. So we're going to talk about something we specialize in today: solar pool heaters! Read on to learn about these systems and how one can help you increase your home enjoyment this season and beyond.
Solar Pool Heating Lets You Extend Swimming Season!
Chillier months typically mean it's too cold to take a refreshing swim. This is particularly true if you enjoy swimming in the morning. But solar pool heaters are highly efficient and capable of allowing you to keep your pool's water warm enough to swim in no matter the time of year.
Solar Pool Heating Saves You Money!
Solar pool heaters are a bit pricey upfront, generally speaking. However, once yours is installed, it will shave a good deal off your monthly energy usage, which in turn means that you'll save money. Additionally, solar pool heaters are really eco-friendly, which means you can lower your carbon footprint without ceasing use of your swimming pool.
Solar Pool Heaters are Quite and Efficient!
Solar pool heating systems do not make excessive noise, which means you won't have to worry about a noisy distraction when you're trying to enjoy your pool. Additionally, they have few moving parts, so once they're professionally installed, they require very little by way of maintenance or repair needs. This means you can use your pool without as much fuss as you may with a non-solar pool heater.
Is Going Solar Really Worth It?
In short, yes! Going solar is absolutely worth it, especially in a bright, sunshiny state such as ours. Solar energy will drastically cut down on your electrical energy use, from everything including your HVAC systems and pool heater to your washer and dryer and even your lighting.
We are happy to answer any questions you might have about solar pool heating or the use of solar energy in general! Plus, be sure to inquire about local, state, and federal tax credits and reimbursements that you may be eligible for after going solar.
We look forward to serving your solar needs! We work with leading manufacturers and products, and solar installations and services are our specialty. Please give us a call so we can get a discussion started on how we can best help you achieve your home comfort needs.
When you need a reliable solar company in Sacramento, CA that works with leading pool equipment company Pentair, look no further than Sierra Pacific Home & Comfort, Inc. Contact us today!