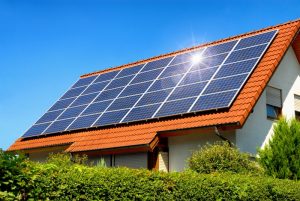 Our short answer to this is going to be, "yes of course!" But then again, you'd expect us to say that, right?
Seriously though, with all the advancements in solar technology over recent years, it really is a good investment to go solar, particularly here in sunny CA! Homeowners will find that there are a number of incentives available to them for going solar, and there are many other cost-saving benefits, too.
If you're considering having solar panels professionally installed in order to save money on electricity, now is a perfect time! Keep reading as we go over some of the biggest advantages of doing so.
Solar Uses Clean Energy
The energy you get from the sun is eternally renewable—we'll never run out of it. This means that this energy cannot be depleted like a fuel (like gasoline from a car, for example) and theoretically can let things run forever. Plus, once they're professionally installed, solar panels have no moving parts and require no energy input (gas or otherwise) to function.
Of course, we do recommend occasional maintenance as well as professional repairs in the event that weather brings damage upon your solar panels. But unlike other home comfort systems, there are no heavy annual maintenance needs, and no fuel to refill. Not only does this save you money, but it reduces your carbon footprint, too!
It Is a Safe Investment
There are certainly shady investments out there that you could make. Installing solar panels isn't one of them! Solar panels are admittedly pricy to have installed, and this is something you'll need to consider. But in exchange for this investment, you'll discover huge savings on your electrical utility bills each month.
Over the years of using your solar energy system, you'll save hundreds of dollars, and since solar panels can function well for decades, you'll likely be able to enjoy these savings throughout your homeownership without worrying about the cost of eventually replacing your solar panels.
Taking Advantage of Incentives
The state of California wants you to go solar! They greatly encourage the implementation and use of solar energy, and offer a series of incentives and rebates designed to help homeowners just like you make this investment.
When you work with our team for your solar energy installation and service needs, you'll be working with people you can trust for all aspects of the work, from helping you determine what type of solar panels to have installed, to following up with repair services if necessary. We'll help you with factors such as how many solar panels you need, where exactly to install them, and the types of tax incentives and rebates you can take advantage of.
Our technicians are highly skilled at performing solar installations, as well as repairs and maintenance when needed. We want you to be 100% satisfied with our work!
To learn more about solar energy systems and if your home is a good candidate for one, contact "The Guys in the Big Red Trucks"—Sierra Pacific Home & Comfort, Inc.