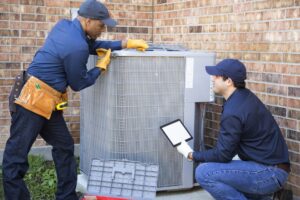 Air conditioning installation sounds like such a process, doesn't it? When you think about ductwork, the outdoor concrete pad, the unit itself, the vents, it all sounds like too much. But there's no one-size-fits-all time frame for AC installation.
When you get central AC installation in Rancho Cordova, CA, you don't want it to take too long, but we'll tell you right now that some jobs take longer when complications arise during the installation process. Let's go over everything you need to know about the way the install process impacts your time frame.
Pre-Installation Appointments Save More Time Than They Cost
A technician will come out to your home for a pre-installation appointment, which is when they inspect your current AC, how it's set up, and they may look at maintenance records as well. This is all done in an effort to save time, resources, and lower costs during the actual installation.
If your technician knows what they're heading into, it helps them optimize their steps and bring the right materials for the job. Technicians will know if they need to replace wiring that goes from the circuit breaker to the AC switch, if the current ductwork can be reused, and more.
The goals of a pre-installation appointment are simple: to give you the most accurate time estimate for the installation and help technicians bring everything they need on installation day.
It Depends on if You're Switching AC Styles
If you have central AC, but you're finally ready to make the jump to a heat pump or go ductless, it changes the scope of the installation. For a heat pump, we can use the ductwork from your central AC, but ductless is another story.
For a ductless system, you will want your old vents sealed up. Depending on how many ductless headers you're installing (usually anywhere from one to four), the installation time will change.
This is all figured out during the pre-installation appointment, and that helps the technician work it into their time estimate. It should go without saying that if you're jumping from one central AC to four ductless mini splits, it's going to take a good deal of time to get everything installed properly.
Being in a Rush Isn't Always a Good Thing
Even the most experienced technicians can make mistakes which is why it's never good to rush things. We have check and balance systems to catch any mistakes and this normally happens at the end of the installation process.
That means when the installation is done, we run tests, test the air duct pressure, and go through all possible problems. On occasion, we might find that something needs to be adjusted to optimize your AC. This is our due diligence, and it's worth the time spent.
Your Installation Time Varies
Once the pre-installation appointment commences, you'll know how long the installation should take. It's good to remember that these are reasonable estimates, but not every potential problem can be figured out before the installation rolls around.
Contact Sierra Pacific Pacific Home & Comfort, Inc. today to schedule your AC installation. You can always trust The Guys in the Big Red Trucks.