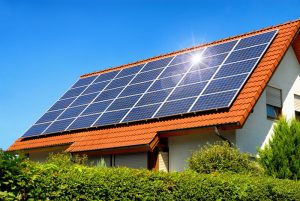 When dealing with the throes of summer, there's only so much you can do to keep your house cool: keep your air conditioner well maintained, close up your blinds to keep the sun out once it reaches a certain point, and turn on your solar attic fan. Wait, what's that? You don't have an attic fan?
Think about this scenario: during the hottest weeks of summer, the sun beats down on your roof for hours. The AC system has to work even harder to keep your home cool, with the compressor running for longer and longer. This means the AC can eventually struggle, which causes the system to wear down faster than it otherwise would. Fortunately, a solar attic fan professionally installed by our team is a great solution.
What's an Attic Fan?
Sometimes called an attic ventilator, an attic fan is an energy-efficient option for regulating the heat level of your home's attic by exhausting hot air out of it. Your attic fan can be gable-mounted or roof-mounted, and is controlled by a thermostat, which automatically turns it on and off depending on your needs.
Attic fans perform at their best in attics that are properly sealed and insulated to block out heat and moist air, improving your HVAC efficiency and protecting your roof, in addition to the integrity of your attic.
More Than Just Ventilation
Even moderate summer temps—let's say 80°F—can increase the temperature of your roof and attic to over 150°F if you don't have a properly installed and functioning attic fan. Vents do provide some passive cooling, but not enough to make any real difference.
When your attic fan is operating during the hottest summer days, the temperature in the attic can drop significantly, making your whole home cooler. When the attic is cooler, you'll be able to turn your air conditioner's thermostat up (by as much as 10°F) and still maintain home comfort.
The Solar Difference
When your attic fan is powered by solar electricity, it will save you even more money than you're already saving with lowered AC use. Solar panels reduce the amount of electricity needed to cool your space. And solar attic fans are simple for our professionals to integrate and configure into your current electrical system and wireless controls.
Helping Your Roof
While we don't suffer from too much humidity compared to other parts of the country, it's still there—and there are many reasons why that moisture is bad for your attic. If moist air sits in your attic for too long, it causes mold development in the insulation and wood beams. Since it's easy for moisture to reach your attic in the first place (through showering and cooking, in addition to outdoor conditions) this isn't a problem you want to neglect.
Excess moisture can be bad during the winter, too, when cold turns it to frost. As that expands and thaws, it can damage your roofing materials. But an attic fan helps with this too! A solar attic fan is an excellent year-round option for your home comfort.
Contact Sierra Pacific Home & Comfort, Inc. today to schedule your whole house fan installation in Rancho Cordova, CA.