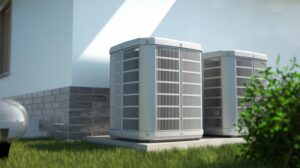 Nothing feels quite as upsetting as your home comfort being interrupted out of nowhere. If your home heat isn't quite right and you're concerned about your heat pump, this quick guide on diagnosing the problem will help. Let's find out if your heat pump is okay, or if you need to call for heat pump repair Sacramento, CA residents trust.
Uneven Heating
Your heat pump should always heat your home evenly. If you notice some areas of your home are warmer than others, this signals that there's an issue. Your heat pump could have a specific problem or it's simply not operating at peak efficiency due to dust and debris buildup. If air filtration isn't the cause, there could be another problem. A professional heat pump repair technician can diagnose that issue and determine the best solution.
Strange Odors
When was the last time you turned on your heater? Just because it hasn't been used in a while doesn't mean dust and debris doesn't find its way inside. In some cases this smell will fade after one or two uses at the start of the season. This burns off any dust or accumulated debris, and while the smell is unpleasant, it isn't anything to be concerned about.
When those smells don't go away, that indicates a larger problem. The odor could be coming from the electrical components of your heat pump. Wiring could be too hot or overheating could be causing certain components to incur damage. This can also lead to other elements of your HVAC system overheating by proximity.
Weird or Abnormal Sounds
When your heat pump turns on, you may notice it by hearing air exit your vents or by feeling the warm air move through your home. You shouldn't become aware of your heat pump turning on by loud, abnormal sounds such as rattling, heavy vibrations, screeching, or hissing. These all indicate that there's an issue somewhere in your heat pump.
The cause could be any number of issues caused by any number of components. Typically, this isn't something that can be diagnosed just by looking at your HVAC system. You need a technician with the right tools and experience to find out what's going on.
No Recent Maintenance
Your heat pump doesn't feel like it usually does. When you think about the last time you had maintenance on it, you can't pinpoint a date or even what year it was. Lack of maintenance leads to a varying list of issues. A technician can inspect and diagnose your unit to determine exactly what's wrong. We recommend setting up a regular maintenance schedule going forward if this is the case.
Your Comfort Matters; It's Time to Fix That Pump
If you're experiencing any of the problems listed above, your heat pump could need repair before the cold season hits. You and your family's comfort is important, it's not something that can wait.
Contact us today to schedule an appointment to fix your heat pump, and ask about our Comfort Now, Pay Later financing options.