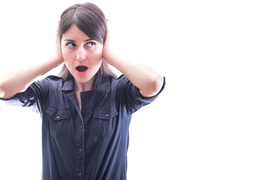 It would be nice if we had air conditioners that could self-diagnose malfunctions and report them back to the homeowners in detail, right? Honestly, that's probably not too far-fetched of an idea when you really think about it.
In the meantime, though? This isn't a reality and we need to rely on other methods for our air conditioner to send warning signs that something is amiss. This may be a drop in cooling power, or an unexpected and unexplained spike in energy bills. Or, it may be that your circuit breakers for the indoor and outdoor units keep tripping.
Or, it could be noise. "Wait," you might be thinking, "my air conditioner always makes noise!" We aren't talking about the hum of the fans or the faint clicking you might here when the system starts up and shuts down, though. Rather, we're talking about sounds that are abnormal to what you normally hear, or seem louder than they should be. What could this include? Read on!