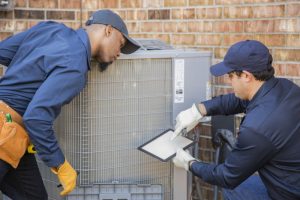 Okay, don't get too excited! We aren't providing a guide on how to install your air conditioner. The reason? Only a trained and experienced professional should ever do this kind of work. After all, AC systems are highly complex pieces of machinery, requiring specific knowledge and skills to service correctly.
Of course, we get your sense of urgency. If you're reading a blog post about AC installation near the end of July, then you're probably dealing with a broken-down system and a desperate situation. But no matter the severity of your air conditioning troubles, we really have to urge you to not do anything in haste. Doing so can lead to sacrifices in comfort and in energy savings—meaning you'll be paying more for less comfort.
Read on as we uncover a guide as to how our pros install an air conditioner, and why professional installation is so vital.