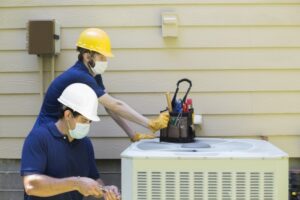 There's a reason tourists flock to our area pretty much any time of the year—it's because we're known for being warm and sunny. Of course, in the springtime and summer this can be pleasant for visitors, but not so great for residents if they don't have a fully effective and efficient air conditioner in their home.
The #1 way to make sure that your air conditioner is set up for success is through routine maintenance. But many people put off this service, sometimes until it's too late. So we're glad you found this blog post! Read on as we uncover some of the most important reasons to have your air conditioner maintained by a professional before the warmer temps are here for good this year.
Professional Maintenance Keeps Your System Operational
When our professional HVAC technicians inspect and adjust the components that need it in your air conditioner before you're about to use it the most, it ensures that your air conditioner won't suddenly and unexpectedly break down on you. Let's face it, we use our cooling systems a lot during spring and summer—you don't want your cooling system failing on you when you need it the most.
Maintenance takes away any unpredictability that you may otherwise have with your air conditioner. If we find components that need adjusting or repair, we'll take care of it right then, or alert you so that you can schedule repairs. Overall though, you'll have peace of mind!
Professional Maintenance Reduces Repair Needs
Many of the problems that arise with air conditioning systems do not actually come out of nowhere. Rather, they've been festering undetected for a while. Professional springtime maintenance can eliminate any problems before they become chronic, ensuring that your cooling system is in great shape before you need to start using it.
Our licensed, experienced, and highly trained professionals will detect any problems and advise you on the best way to move forward with your AC care. Plus, by spotting small repair needs now and managing them right away, we can help avoid that from becoming a much bigger and costlier AC repair need.
Professional Maintenance Saves You Money
People often ask, "Isn't maintenance an additional cost?" when they should really be asking, "How can I afford to go without maintenance?"
The thing is, by reducing repair needs and by helping your air conditioner to work more efficiently, you're reducing the cost of operation from month to month, ultimately saving money. Additionally, when you sign up for our maintenance plan, you can rely on a flat fee for any diagnostic costs.
Lastly, maintenance helps your system last longer. Air conditioners have an average useful service life of 10 to 15 years, when professionally maintained. Without maintenance, they'll start accumulating wear and tear faster, and won't last nearly that long. Ultimately, you'll save more money by having maintenance than by skipping it.
Reach out to Sierra Pacific Home & Comfort, Inc. for professional Sacramento air conditioning maintenance! Look for "The Guys in the Big Red Trucks."