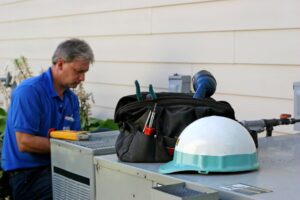 Your air conditioner is designed to last for ages, so why would you want to even think about air conditioning replacement in Rancho Cordova, CA if it's still working? Just because it runs doesn't mean it runs well, and there could be a few reasons that really jump out at you from this list and convince you to make the upgrade now before it's born out of necessity.
You Have a Home Addition Right Around the Corner
Air conditioners are sized for the amount of available living space at the time of the installation. If your AC was installed three years ago, before you had plans to expand your home, and now it's looking like a reality, your old AC isn't equipped to handle all that extra living space.
Air conditioners aren't installed with more power than your home truly needs. This is because otherwise they'll use up a lot of power to cool a space that's smaller than its capacity range, and you'll end up wasting money. Plus the installation cost can be higher as well. But if it's time for an addition, it's also time for an air conditioner upgrade.
You Notice Your Energy Bills Are on the Rise
You're not doing anything different with your home heating and cooling, but you're noticing that your bills are steadily rising. They're not astronomical, but you know it's not your energy rates because those haven't gone up in the slightest. What gives?
It could simply be that your air conditioner isn't doing as well as it used to. Wear and tear is when time and usage equal small increments of damage that compound over time. Your AC just isn't what it used to be, and that's okay–but it's impacting your monthly utility costs, and that needs to be taken into account.
You Want to Increase Your Property Value
You're thinking about selling your home, but there's a checklist before you do that. You want to improve your property value by as much as possible because move-in ready homes fetch a higher price tag on the market.
One of the best things you can do is upgrade your air conditioner so that prospective homebuyers can buy that assurance. They don't want to switch out the AC once they move in–and you can possibly increase your asking price by more than the total cost of buying and installing that air conditioner. We're ready to help you if that's what you're trying to achieve.
It's Time to Upgrade Your AC Today
Your air conditioner may still work, but is it really working out for you the way you want it to? We're willing to bet that if the items on this list caught your attention and got you thinking about your own air conditioner, it's time for an upgrade. Contact us today to get started as soon as possible.
Contact Sierra Pacific Home & Comfort, Inc. today to schedule your air conditioning replacement as soon as possible. Let's get your home comfort back on track.