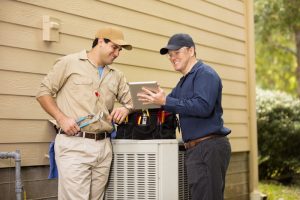 If you are reading this blog post right now because you need an air conditioning installation, then there's a good chance that you have a sense of urgency about it—given that warmer temperatures are well on their way. The problem with this is, many homeowners rush to find a new system for their home, and opt for whatever they can afford—then try to install it themselves!
We want to urge you to reconsider this approach. There is a lot more work that goes into an air conditioner installation than you may realize, and there are plenty of reasons you should only trust a professional for the job. Read on as we uncover a few reasons why you need a professional for your air conditioner installation.
We Know How to Take Out the Old System
Sure, taking out an old air conditioner sounds easy enough, right? Well, you might be unpleasantly surprised to learn that this can actually be the most laborious part of the whole process. In many cases, it's even the lengthiest part of the job. There is more that goes into this step than simply pulling the old system out—careful attention needs to be given so nothing is knocked out of place or damaged in the process.
Additionally, our professionals will ensure that your new system is properly sized for the space it's being installed in. We don't just mean that it should be able to easily slide into place—it also can't be underpowered (too small) or overpowered (too large). Determining this requires a careful calculation known as a cooling load calculation. Without this, you'll be stuck with an inefficient and expensive air conditioning system.
We Make Connections Safely
Once your new air conditioner is in place, and typically this means bolting it to the floor, too, our techs will connect the system to the components needed for operation. This includes the air duct system—your ventilation system, that is. The ductwork needs to be hooked up properly to avoid any damage. Air ducts often need to be adjusted and shifted during this part of the process, and mistakes can happen as a result, if left to amateurs.
The next step is hooking up your air conditioner to its power source—meaning your electrical system. It's worth mentioning that in the case of gas-powered heating systems, it's not only smart to hire a professional, it's legally required in most jurisdictions, as gas lines can be dangerous to work with for the untrained eye.
We Test Your Air Conditioner for Functionality
We couldn't call ourselves air conditioning professionals if we didn't test your new system to ensure it works as it should. If we left your household after making the last connection, without turning the system on and measuring the output, we could be leaving you with an inefficient and even ineffective air conditioning system. In other words, we'd be leaving you with an incomplete job. We can promise this will never happen when you work with true professionals, but it might happen if you work with an amateur!
For expert AC system installation in Sacramento, contact "The Guys in the Big Red Trucks," Sierra Pacific Home & Comfort, Inc.