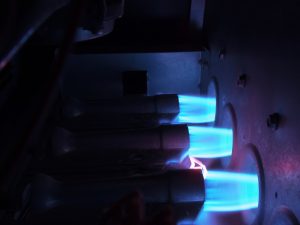 Fall has officially arrived, and while we may still have a few hot days left in the year, we're going to be depending upon our heating systems more and more as the autumn weather continues. If you haven't gotten your furnace ready for winter yet, now is an excellent time to do so. While laymen should never attempt to diagnose or repair any damage to a functioning heater—it takes formal training and licensing—it's usually a good idea to turn it on and check for any unusual activities. Regular maintenance can help as well if you'd rather leave the basic diagnosis to professionals. Here's a quick breakdown of how they work.
Things to Check For
Basic problems with your heating system don't need a formal diagnosis to observe. You simply need to run your heater and look for anything out of the ordinary that might raise some red flags. If they do, you simply need to turn off the system and call in a repair service for a closer look. Common signs of trouble with your heater can include the following:
Strange noises, such as hums or clangs: anything that doesn't match your heater's normal ability to function. In most cases, the noise will start and stop with the starting and stopping of the air conditioner.
Heat that is insufficient, or actively cool air coming from the heater.
Reduced air flow through the ducts.
Strange puddles or moisture deposits if you own a boiler or a radiant heating system.
Bills that are higher than normal.
You detect the smell of gas (in which case you should turn off the gas immediately and evacuate the house before calling a repair service).
Regular Maintenance
Even if you don't detect overt signs of trouble, formal heating maintenance from a trained technician can always be beneficial at the beginning of heating season. Maintenance differs from repairs in that it doesn't focus on a single particular problem, but rather represents a check for any and all problems. If it's small, like a loose bolt, it can be fixed immediately. If it's a larger issue, the technician can schedule a formal repair to deal with it, and even conduct such repairs immediately upon finishing the heating maintenance if necessary.
This carries three primary benefits for your heating system.
It helps the system perform more effectively, which lowers both your monthly bills and wear-and-tear on interior components (which in turn reduces the risk of a breakdown).
If further repairs are needed, it allows you to catch the problem early, before it causes a breakdown. That allows you to schedule repairs at your leisure, at a time that suits your calendar. In addition, in most cases, the repairs will cost less, since the damage hasn't had as much time to spread.
When applied regularly over time, maintenance can help reduce the effects of wear and tear, helping your heater run longer before needing replacement.
Call on the professionals at Sierra Pacific Home & Comfort, Inc. for quality heating maintenance in Sacramento, CA.