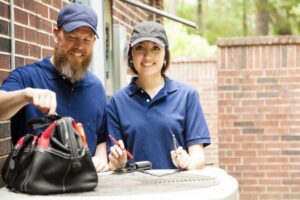 Temperatures may be on the cooler side for now, but you know as well as we do that warmer days are right around the corner. If you've been considering having a new air conditioner installed, now's the time to start doing your homework!
You may be thinking, "Why can't I just wait until spring and see what's in my budget to go from there?" You could do that, but what if we're surprised by unseasonably warm temperatures? Then you may want to rush the decision, and that is where mistakes are made.
When you hire a professional to help you decide on an air conditioner and then install it, you can count on it being properly sized, the best system for your needs and your budget, and for it to operate as it should. Read on for our tips on choosing the right professional AC installer!
Look At Their Experience
We get it—it can be tempting to call in any "handyperson" off the street as long as they have a little bit of experience with electric and mechanical devices to install your new air conditioner. First off, this doesn't resolve choosing the right air conditioner; and secondly this could leave you with more problems rather than fewer.
HVAC equipment is complex, and so is installing it. This is why our HVAC professionals go through so much training and education, and get so much experience before they ever work alone in a customer's home.
There's also safety to consider. Air conditioning systems do have components that the average homeowner shouldn't handle, like refrigerant. It's best to avoid the hazards by trusting a professional with the proper experience and licensing!
Look at Their Product Knowledge
The cooling system you choose for your living space is going to play a large role in your family's comfort and health. However, you don't want to pay an arm and a leg every month for that comfort. When you hire the right AC installer, you'll have one who knows the ins and outs of every type of air conditioner.
This means you'll be able to make an educated decision and get an air conditioner that specifically matches your individual needs (remember, no air conditioner is one-size-fits-all) and therefore performs as efficiently as possible.
We want to help you save money on your energy costs each month. Doing so starts at the first step—installation.
Look At Their Product Offerings
As we mentioned above, there is no "one-size-fits-all" air conditioner on the market. While a central air conditioner can be the perfect choice for one household, a ductless system may be the right choice for another. When you choose an air conditioner installer, choose one who has knowledge of each of these and can install any of them.
You deserve to have various options to choose from so you don't feel stuck choosing a system in haste or choosing a system that's too out of your budget.
To get in touch with a local, trusted HVAC company in Elk Grove, contact "The Guys in the Big Red Trucks" today—Sierra Pacific Home & Comfort, Inc.