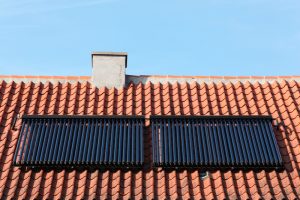 We may be heading into our cooler months now, but as we well enough know, heat waves can surprise us. When they do, we don't want to pay an arm and a leg to cool down our homes. The good news is, there are steps you can take to ensure this isn't the case, and that you're always getting the best in efficiency from your HVAC system, whether it's your cooling or heating unit.
One home addition that can help with this is a solar attic fan—a large fan installed in your attic that is efficiently powered by the sun.
Think about what this means—in our hotter months the sun beats down on your roof for hours at a time. Your air conditioner has to work even harder than normal to keep you home cool, meaning that it will struggle at times, and cause your system to wear down faster than it should. Fortunately, there's a solution!
The Power of a Solar Attic Fan
Also called an attic ventilator, solar attic fans are energy-efficient solutions to regulating the heat level of your home's attic by exhausting hot air. This appliance can be either gable-mounted or roof-mounted, and it is controlled by a thermostat that automatically turns it on and off depending on the temperature, just like your HVAC system.
These fans work best when the attic in which they're installed are properly sealed up and insulated. This helps to block the entry of heat and moisture and enables improved HVAC efficiency, not to mention it protects your roof and the structural integrity of your attic.
Beyond Simple Ventilation
Solar attic fans are about more than ventilation. While we don't have to worry about it this time of the year, when summer rolls back around and we have warmer temperature—even in the low 80s—the temperature of your attic can swing to over 100°F easily, at least without a properly installed and functioning attic fan. Vents provide passive cooling, but not enough to truly reduce the temperature of your attic and therefore the temperature of your home.
When a solar attic fan is in operation, the temperature of your attic can drop significantly, making your home much cooler and enabling you to turn up your air conditioner's thermostat by as much as 10° while still maintaining comfort.
Reduce Your HVAC Costs
Did you know that your heating and cooling bills account for half of your energy usage? A solar attic fan offers some reprieve for your air conditioner since it won't have to run as long to keep you cool, and therefore it costs less money to use.
The reason we're talking about this now instead of waiting until next summer is because there really is no bad time in our area to install a solar attic fan. By investing in such an appliance now, you'll be ready well before the weather starts warming up again.
Need expert Rocklin solar services you can trust? Contact Sierra Pacific Home & Comfort, Inc. The Guys in the Big Red Trucks!