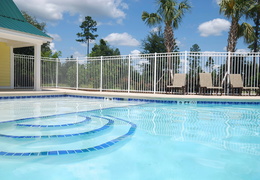 Being in a nice, refreshing pool is one of the best ways to relax and have fun during the summer, right? Whether you're swimming, just dipping your feet in, or floating in a tube "lazy river" style, a swimming pool is one of the best luxuries you can invest in for your home.
However, as nice as it is to cool off during a hot day, you still don't want to take an ice-bath, right? it can be uncomfortable to swim in water that's too cold, and for this reason, many folks just avoid swimming when temperatures are cooler. Since it takes a long time around here for daytime temperatures to warm the pool back up, a pool heater comes in handy!
Read on as we uncover some of the benefits of a professionally installed and serviced pool heater.